Stay up to date on the mentions that come in during the day by setting up multiple notifications. In this guide, we go through the steps of easily setting up multiple email notifications.
To create a new email notification, select "Media Notifications" in the menu under "Personal" and then click on the CREATE NOTIFICATION button.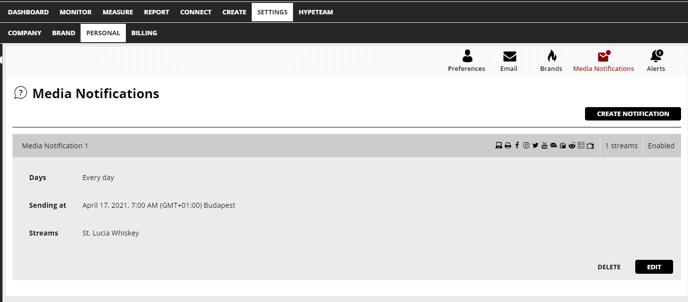 You will be presented with a pop-up box where you can customize your email notification - see image below. Here you need to:
Make a note of the title of the notification
Decide if you want to receive a notification if there are no mentions.
Select the searches you want to include in your notification.
Select the days you want to receive the notification.
Check that the time zone is set correctly.
Set a time for when you want to receive your notification.
If you want to add more notifications, just click on ADD TIME SCHEDULE and select new time.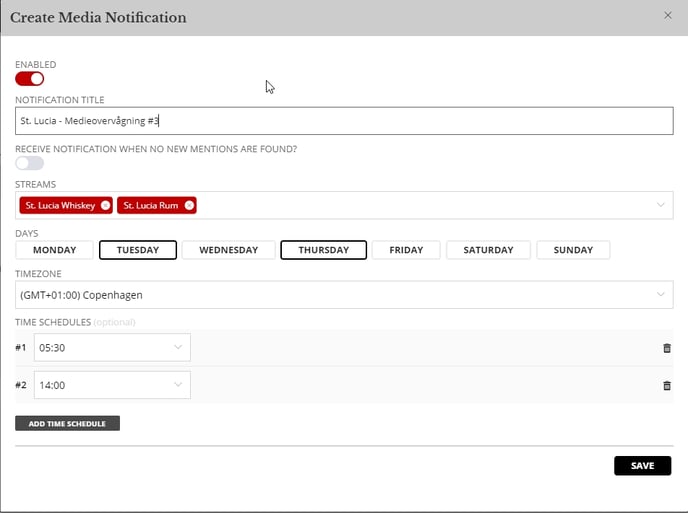 When you have finished customizing your email notification, save the settings by pressing SAVE.

It's that easy!

If you have any questions, you are more than welcome to contact our support team via our chat feature in the platform or at support@hypefactors.com.